COVID-19 Update Information
The health and wellbeing of our DeakinACTIVE members remains our highest priority. We are following all government and health guidelines, and listening carefully to any questions and concerns we receive from our staff, members and Deakin University as we move towards a new COVID normal. If you are a student of Deakin University, you can find further information on the Deakin University website COVID-19 FAQ.
Mask wearing rules have been relaxed and it is no longer mandatory to wear a mask when you attend DeakinACTIVE. It is mandatory that you carry a mask with you at all times and please wear your mask if you cannot maintain 1.5m social distancing at all times eg. when spotting with weights.
As restriction have eased, you no longer need to use the DeakinMOVES app to book your gym workouts. DeakinACTIVE facilities are open for everyone to workout when and where it suits them! Wgilst bookings for gym workouts are no longer required, with smaller personalised groups for our Group Fitness classes, you do still need to book to reserve your place in the class. Please book via the DeakinMOVES app.
Please remember to check in and scan your member card everytime you attend DeakinACTIVE so we have a record of your attendance should we require this for trace and tracing purposes.
HYGIENE & SAFETY REMINDER:
We ask that you maintain these practices while you work out:
1.5m physical distancing must be kept at all times
Wear your mask if you cannot social distance eg. spotting of weights
Wash your hands prior to entering the gym
BYO filled water bottle (water cooler temporarily closed)
BYO towel. No towel = no workout. No excuses
Equipment will be wiped down frequently by staff. You also need to wipe down your own equipment using the supplied antibacterial wipes before and after use
Please use hand sanitiser before and during your workout
Changerooms are open. Please bring thongs to wear during your shower
It goes without saying but if you are feeling unwell please do not attend
If you display signs of being unwell you may be asked to leave the premises
By attending DeakinACTIVE you are agreeing that you are not experiencing any signs or symptoms of COVID-19, you have not returned from overseas in the past 14 days, and that you haven't come into contact with a confirmed COVID-19 case in the past 14 days. If you do experience any of these symptoms, please inform a DeakinACTIVE staff member.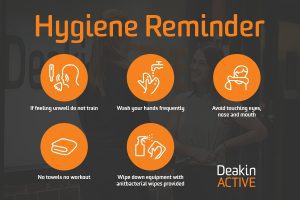 All communication about DeakinACTIVE will be done via our social media, website or via email. If you need to contact us:
Facebook https://www.facebook.com/deakinactive/
Instagram https://www.instagram.com/deakinactive/
Website https://deakinactive.com.au/
Burwood burwood@deakinactive.com.au
Waurn Ponds waurnponds@deakinactive.com.au
Warrnambool warrnambool@deakinactive.com.au

Don't forget to download our DeakinMOVES app so you can still keep MOVEing and stay active with us! Daily and weekly workouts, monthly challenges and FREE online classes available. Look after yourselves, eat healthy foods, exercise and keep up regular sleeping habits.